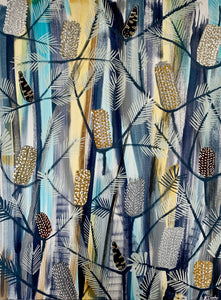 Nature of the Blue Mountains is inspiration for Kate's work. Musicality is evoked by line, colour and overlaying rhythmic forms. This semi abstract piece depicts Australian native flora. 
There is a sense of joyful wonder in Kate's playful nature series of Banksia.
Acrylic on Canvas w91cm x h121cm
choose from unframed or framed in oak, white or black timber.
FREE SHIPPING



.so.icn ~ .product-info .price { display: none; }